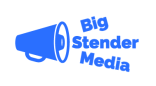 At Big Stender Media we help you tell the stories that resonate with your customers.
Because they're not just looking for competence, they're looking for connection.
Connection to people, to culture, and to a context greater than themselves.
So while you keep striving for excellence, pushing boundaries and forging new frontiers, it's making an impact that keeps your business relevant.
Big Stender Media